Thank you for choosing Portland Diabetes and Endocrinology Center for your endocrine needs. Our office is open 5 days a week from 8 am-5 pm, with on call services on the weekends in case of emergencies. With our practice, you have the choice of being served by any one of our 9 providers.
We look forward to seeing you!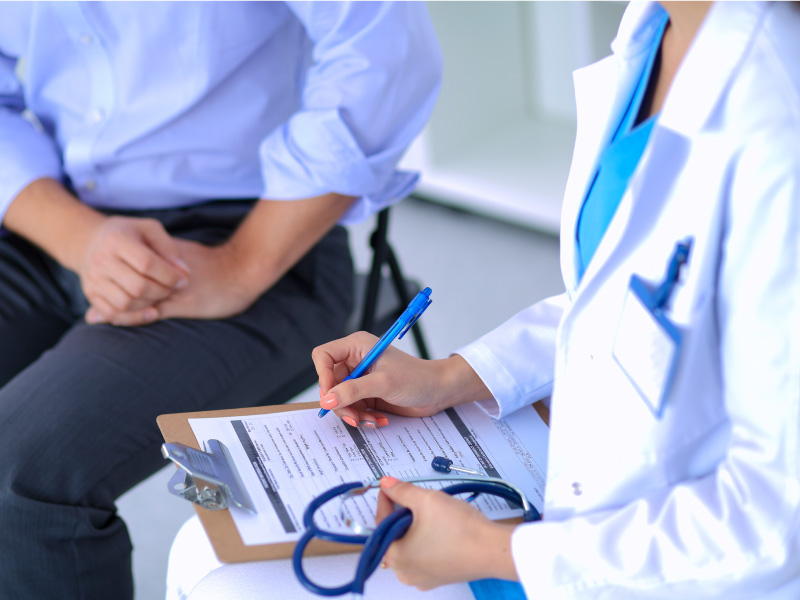 How to Get Scheduled
First, request that your primary care provider send a referral and medical records to our new patient coordinator at fax (503)972-7573. These medical records should include any labs, imaging, chart notes, and diagnosed endocrine conditions.
Once you have confirmed these have been sent to our clinic, you can call our new patient coordinator at (503)688-1265. You will be prompted to leave a message. Please leave the following information in your message:
Your first and last name, with spelling
Your date of birth
Your primary care providers name and the clinic location
Reason for being referred
Due to the high demands of our services, please note it can take 3 to 5 business days to process your voicemail request, so we ask that you wait 72 hours before calling to check the status.
New Patient Paperwork
Once you have scheduled, you will receive new patient forms to fill out via Phreesia online registration. This can be sent to your computer with an email address or to your smart phone devise with your cell phone number.
If you are unable to complete the paperwork with the above devices, please let the individual scheduling know and we can mail you a packet to your home or have one prepared for you when you arrive.
What's in New Patient Packet?
Form 1: Welcome to PDEC letter!
Form 2: Demographic Information
Form 3: Pharmacy Information
Form 4: Patient Financial Responsibility and Disclaimer Form
Form 5: Authorization for Release of Medical Records
Form 6: Intake Form
Form 7: Map to Clinic
If you are unable to complete the paperwork for any reason, be sure to arrive at least 15 minutes before your appointment to complete your needed paperwork.
What Should You Bring to Your Appointment?
Valid photo ID (Driver's license, passport, etc.)
Insurance card or proof of insurance
Completed new patient forms
Details of prescription medications – Name, dosage, and instructions etc.
Continuous Glucose Monitoring (CGM) pumps or meters you are using
Any recent test results or medical documentation we have not been sent, that you feel would help us understand your healthcare needs (ultrasound results, x-ray results, MRI results, bone density scans, eye exam, and foot exam etc.)
What to Expect
During your initial appointment, our front office staff will ensure that all PDEC policies are provided to you
Our medical staff will download any medical devices, gather vitals, and ensure medications are accurate and up to date
Your provider will evaluate you and your medical records. They will discuss any other medical history (that is not provided), current concerns, and required care.
Our medical staff will assist your provider by requesting any additional documentation, teaching, giving injections, or sending medication refills, as approved by your provider
Lab staff will be available for lab draws following your appointment, based on your providers orders
Reception staff will finalize the visit and schedule you for your next visit based on your provider's recommendations
How Often Will I Need to Be Seen?
As your endocrinology specialist, our providers prefer to see their patients on regular intervals. These are generally every 3-6 months but are based on the needs of each individual patient. We plan to set below appointment schedules for all patients:
One annual in-person visit per year (required to keep medication prescriptions active)
Four quarterly visits to cover regular health checks for diabetic patients
You can reschedule or cancel any of these visits, however, as your partner in health, we strongly recommend following up annually at a minimum.
Does PDEC Offer Telemedicine?
We are pleased to offer video visits with each of our providers established patients. You will need access to a computer with an available camera and microphone and internet access OR a cell phone with an available camera and internet access to schedule a video visit with us.
Please note our policy does require that a patient be seen in-person once per calendar year.
How PDEC Handles Cancellations, Rescheduling, and Arriving Late
We understand there are times when you must miss an appointment due to unexpected circumstances. However, when you do not call to cancel an appointment, you may be preventing another patient from getting much-needed care.
There will be no charge for your first missed appointment. A $25 fee may be charged for any no-show appointments after that. This will not be covered by your insurance company and must be paid prior to rescheduling.
If you are delayed and arrive more than 10 minutes past your scheduled appointment time, we may have to reschedule your visit for the next available appointment. This is to ensure the safety and prompt care of every patient.
Patient Portal
MyHealthRecord Patient Portal allows you to manage appointments, view medications,  manage health records, pay your bill, and more.
Patient Resources
We have curated an extensive list of resources for a variety of conditions including adrenal diseases, osteoporosis, thyroid diseases, and much more.
Patient Forms & Info
Patient forms and information about insurance, Medicare, referrals and authorizations, copayments, balances, and more.
9135 SW Barnes Rd, Suite 985, Portland, OR 97225