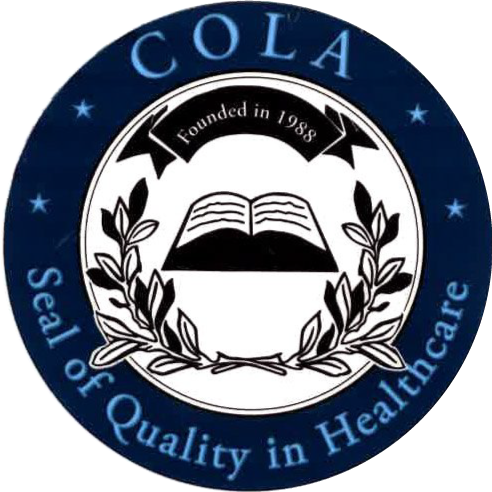 Award-Winning
We are proud to have been selected as a recipient of the COLA Laboratory Excellence Award. This award signifies our commitment to performing quality patient testing and overall laboratory practices and is awarded to only 20 percent of COLA labs.
Our lab has state-of-the-art testing equipment and a staff of well-trained professionals. Our phlebotomists are noted for their skill and compassion in assuring that your experience here is as pleasant as possible.
Laboratory Services
We are committed to providing the highest quality diagnostic testing for the patients we serve. These services are available to Portland Diabetes and Endocrinology patients with a provider's order and appointment in our clinic. Please call 503-297-3336 to schedule or send an appointment request via the patient portal at myhealthrecord.com
Physician Reviewed Results
Your provider will review the results of any laboratory tests. You will receive a letter regarding routine lab results within two weeks via the patient portal or mailed to your home. Be assured that you will be contacted by telephone if a discussion is needed due to abnormal results.
Patient Portal
MyHealthRecord Patient Portal allows you to manage appointments, view medications,  manage health records, pay your bill, and more.
Patient Resources
We have curated an extensive list of resources for a variety of conditions including adrenal diseases, osteoporosis, thyroid diseases, and much more.
Patient Forms & Info
Patient forms and information about insurance, Medicare, referrals and authorizations, copayments, balances, and more.
9135 SW Barnes Rd, Suite 985, Portland, OR 97225